Brown bears are not considered territorial, but they do have home ranges. A home range is a geographical area a bear inhabits over the course of a year. The ranges of separate bears overlap and vary in size depending on several factors. The ranges tend to be smaller in regions with abundant food and where the food supply is near denning habitat. Kodiak bears have smaller home ranges than most other brown bear populations in North America because of the abundant food supply on the island. Males tend to have larger home ranges than females, and home ranges may increase in the fall when there is less food available, and bears are attempting to build their fat reserves for the winter. Home ranges of females on Kodiak average 50 sq. mi. (130 km²), while the ranges of males average 97 sq. mi. (250 km²).
Several scientific studies have been conducted on Kodiak to understand home ranges and the movements of bears relative to salmon runs and food sources. Studies near Karluk Lake show bears move extensively between different drainages and often time their arrival at a particular stream to exactly coincide with the arrival of the salmon run for the stream. This would not be so exceptional if the salmon returned at the same time every year, but the runs often vary by several weeks from year to year.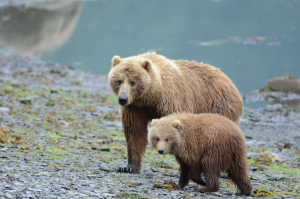 Recent research by Kodiak National Wildlife Refuge biologist William Leacock and his team provided detailed information on the daily movements of radio-collared bears in the Karluk drainage. During 2010 and 2011, this team fitted eight female bears with GPS collars that broadcasted information at one-hour intervals. This information allowed the researchers to track not only the seasonal movement but the daily and even hourly movements of these bears and to coordinate their travels in response to food sources and bedding areas. Some surprising results emerged from this study, and what struck me was how much the movement patterns, home ranges, and bedding habits varied from sow to sow. This study, as well as any, points out that bears, like humans, are individuals and one bear may have a very different behavior pattern from another bear.
___________________________________________________________________________
As always, I welcome your comments on this or any other post. I love to hear what you think.
Be sure to watch my webinar about how I became a published author and why I write Alaska wilderness mysteries. I think you will enjoy the beautiful photos taken by my husband Mike and my friend Ryan Augustine. Stay until the end, and you will receive a coupon for a free e-book of one of my novels. The link is: http://bit.ly/2pcCOo6
Mystery Newsletter
Sign Up for my free, monthly Mystery Newsletter about true crime in Alaska.