Wildlife, Writing, and Living in the Wilderness on Kodiak Island
The Kodiak Island Archipelago is a group of islands 30 miles ( 48 km) from the Alaska Peninsula and approximately 250 miles(402 km) southwest of Anchorage. Kodiak is the largest island in the group, and it is the second-largest island in the United States. It is approximately 100 miles (160 km) long and ranges from 10 to 60 miles (16 to 96 km) in width, the coastline creased by narrow fjord-like bays. Two thirds of the island is part of the Kodiak National Wildlife Refuge. Most of the human population is based in the town of Kodiak and in the six, small villages on the archipelago.
My husband and I live on the west side of Kodiak in Uyak Bay. We own a lodge that is open in the spring, summer and fall, but we live here year-round. Our neighbors include bears, foxes, eagles, seals, sea otters, sea lions, Sitka black-tailed deer, whales, and other wildlife. My goal on this website is to introduce you to some of my neighbors.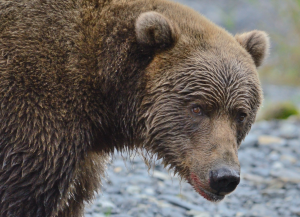 Kodiak is most famous for its bears, so I'll spend a great deal of time discussing bear biology and behavior, as well as recent and current research on Kodiak bears, but I hope to cover interesting information about many of our residents, from jelly fish to eagles to mountain goats to weasels. Please join me on my blog with your questions, opinions, information, and photos!
I am also an author and have written two mysteries. My most recent novel, Murder Over Kodiak, was published by Publication Consultants in April, 2016. Click on the photos of the books below if you are interested in reading more about them. I am currently working on my third novel and on a book about the wildlife of Kodiak Island. I also plan to post about writing and about the adventures of living in the Alaskan wilderness.